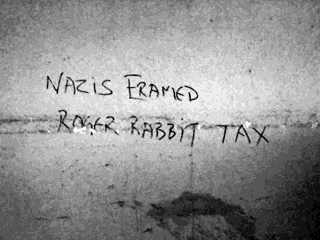 18 April 1996
Nazis Raus
The walls of this town are adorned with the work of a prolific graffitist. The graffiti doesn't seem to advocate any discernible political or social agenda ...

NAZIS KILLED ELVIS
AUSTRALIA UNDER FASCISM
DOYLE GERMAN CONSPIRACY
BOMB THE TORIE'S [sic]
IRELAND GERMAN CONSPIRACY
TERRORIST DOCTORS
NAZIS KILLED MARILYN
CAMS ILLEGAL
UK USA GERMAN COLONY
POLICE RUN DRUGS
GERMAN VAT TAX


The handwriting is all the graffiti have in common. I can't tell whether the slogans are the work of a clever artist or a psychotic; that's always a fine distinction.




yesterday | index | tomorrow
---
©1996 David Glenn Rinehart